This is an old revision of the document!
---
Raspberry Pi Interface
Raspberry Pi Interface joins toghether Carberry and Raspberry Pi.
Are present power supply lines and all signals needed to interface each other.
Layout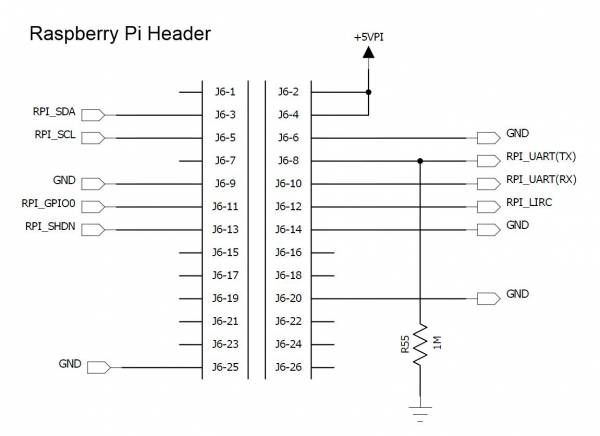 Connector view from Carberry side.
All signals, except from supply, are routed to Carberry MCU.
Pinout
| Position | Kind | Description |
| --- | --- | --- |
| 1 | NC | Not Connected |
| 2 | Supply | Power Supply to Raspberry Pi |
| 3 | Signal | Future use |
| 4 | Supply | Power Supply to Raspberry Pi |
| 5 | Signal | Future use |
| 6 | Supply | Power Supply Ground |
| 7 | NC | Not Connected |
| 8 | Signal | Raspberry UART TXD |
| 9 | Signal | Signal Ground |
| 10 | Signal | Raspberry UART RXD |
| 11 | Signal | Future use |
| 12 | Signal | LIRC codes from Carberry MCU |
| 13 | Signal | Shutdown signal from Carberry MCU |
| 14 | Signal | Signal Ground |
| 15 | NC | |
| 16 | NC | |
| 17 | NC | |
| 18 | NC | |
| 19 | NC | |
| 20 | Supply | Power Supply Ground |
| 21 | NC | |
| 22 | NC | |
| 23 | NC | |
| 24 | NC | |
| 25 | Supply | Power Supply Ground |
| 26 | NC | |