Debug Interface
Debug interface exposes on a three pins header, a 3V3 serial interface (RXD/GND/TXD) for debug purpose.
On DEBUG_TX pin, you will see a lot of messages that Carberry firmware writes to allow users to understand what is happening.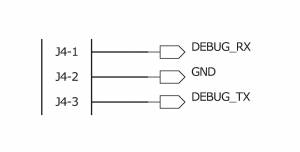 The DEBUG_RX pin is used to send to Carberry ASCII commands, as from Raspberry Pi UART.
Notes
The setup of the debug UART is fixed to 115200 8 N 1.

Commands can be sent in parallel (from Raspberry Pi and from debug port).

ECHO control is indipendent on each terminal.

Debug terminal works also in low power, with ignition off.